 MEET OUR IMMIGRATION ATTORNEYS IN LOS ANGELES
Our Attorney Understands the High Stakes of Immigration Issues
At Arnaout Immigration Law Firm, we know that often times the livelihood of you, your family, and your loved ones are depending on a favorable outcome with the court to stay here in the United States. When our attorney takes a case, she provides a hands-on approach and provides individualized attention to each client. She instructs each client on the legal requirements of their immigration petition or application.
Do you need an immigration lawyer near you? Our immigration lawyers in Los Angeles will take the time to work with you. Call our firm now at (818) 276-9900 to schedule your consultation.
Focused & Detailed Immigration Team
Our Los Angeles immigration attorney at Arnaout Immigration Law Firm is very careful with the way she handles cases. She obtains a copy of the client's whole file, examines the facts and details, researches case law, and applies all the information directly to her work for the client. Our attorney has a wide-range of experience in family based immigration, employment based immigration, visas, naturalization and citizenship and more. In fact, our lawyer prides herself on being able to find effective solutions in the midst of challenging situations.
What Sets Us Apart from Other Immigration Firms in Los Angeles
We have many things that make us unique, including that we:
Have a family center for children
Are available for one-on-one consultations
Are licensed to practice law in the United States and Canada
Are able to provide flexible payment options
Have multilingual services for our clients
Resolve Your Immigration Matter with Proven Representation by Your Side
Flat Rates & Flexible Payments

We work with your budget to ensure you receive cost-effective legal solutions. We also accept all forms of payment.

We Speak Your Language

Our firm's legal team is just as diverse as our clientele. We are fluent in English, Spanish, Tagalog, Cebuano, and Arabic

Extensive Experience

Our Los Angeles Immigration attorney is licensed to practice in the U.S. and Canada. Additionally, we have the ability to represent clients both foreign and domestic.

Teamwork Approach

Our firm is made of some of the brightest and most driven professionals in the field. We work collaboratively to protect our clients.

Customized Solutions

We perform thorough research and analysis on each case so our solutions are tailored to your specific objectives and needs.

Individualized Attention

Unlike other firms, we prefer to stay "hands-on." You will have direct access to the devoted attorney who is working tirelessly on your case.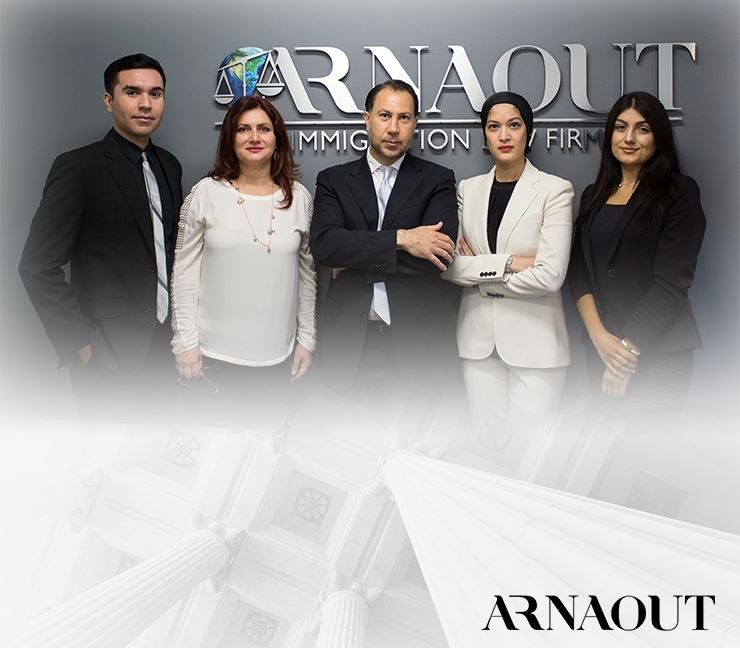 Contact Arnaout Immigration Law Firm Today
Our Los Angeles immigration lawyer handles all kinds of immigration petitions and applications. She can even provide representation in removal proceedings. The goal is to calmly and compassionately help each of our clients by providing advocacy and legal insight that is helpful. To help ensure that the legal insight is as effective as possible, our attorney constantly updates her legal knowledge through research.
Arrange your estimate by contacting (818) 276-9900.